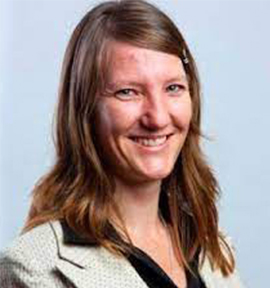 Gisela Gips
General Manager, Integrated Planning
ArcelorMittal Mines Canada 


Gisela started her career in mining in 2004, After spending two exploring roads less travelled in Europe after obtaining her degree.   
Cutting her teeth in production as a process Metallurgist in a small mine in the hot, severe and beautiful Northern Cape of South Africa, she gained in-depth experience of Copper, Lead and Zinc flotation, before broadening her experience with roles in Research, Technology implementation, projects, Talent Development, Knowledge Management, Business Improvement, and Transformation.  
Having done both technical and management roles,  been in local operational and global corporate roles, she built a solid operational foundation spanning the total value chain in base metal, Iron Ore and Coal commodities as well as broad global mining business understanding that helps drive a strategic view of how mining could be.  She has lived and worked in mines in Ireland and South Africa spent extensive time in South American and Australian operations and has recently moved to Canada to take up the position of General Manager: Integrated planning for ArcelorMittal Mines Canada (AMMC). 
She is accountable for leading the design and implementation of the Integrated planning practice for AMMC (Pit to Port) and the further expansion of the IROC, as well as driving smart solution development with a small data analytics and technology team.  
In every role she has been in, there has been a theme of unlocking potential, whether in an orebody or production step through smarter mining, process improvement and technology implementation or in people through development frameworks, coaching and authentic connection.   
She is excited about the potential of the digital revolution taking place, and the emerging paradigm-shifting developments in AI.     
She envisions a future where technology is in perfect harmony with the planet and its people.    She is also a mom to two small wonderful high-energy humans, who keep her grounded and teach her more about herself and life than any role in her career could ever do.